Our company is counted amongst the most distinguished Chakki Atta manufacturers and Whole Wheat Flour manufacturers in India. Precisely prepared by our experts using traditional stone grinding techniques and optimum quality ingredients, this product is extensively availed by our clients from the commercial sectors. We are large-scale Chakki Atta suppliers in India and overseas.
Our process of manufacturing chakki atta is of high quality which is high in protein, high in fiber and properly grounded. Whole wheat flour is rich in B-vitamins, vitamin E and protein, and contains more trace minerals and dietary fiber than white flour.
Our Whole Wheat Flour (Atta) or Chakki Fresh Atta is manufactured from best quality Sharbati Wheat (Madhya Pradesh). Our Wheat flour is available through well-established distribution networks in consumer and bulk packaging of 5kg, 10kg, 25kg, and 50kg.
The specifications include: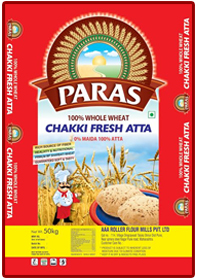 | | |
| --- | --- |
| Moisture | 11% - 11.5% |
| Total Ash | 1.3% - 1.5% Max |
| Water Absorption | 70% and above |
| Gluten | 9% - 10% |
| Crude Fiber | 2.3% - 2.5% |
| Alcoholic Acidity | 0.08% max |
| Acid Insoluble Ash | 0.08% - 0.1% max |
| Protein | 11% - 12% |
| Carbohydrates | 73.0 grams |
| Fats | 1.70 grams |
| Fibers | 11.0 grams |
| Minerals | 1.80 grams |